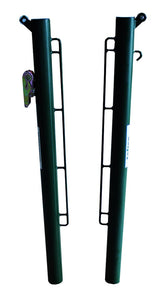 Designed to anchor to the ground by means of metal boats embedded in concrete footing, boats not included.
With tension ratchet and net anchors.
Round section 8cm in diameter, 2mm. thickness.
They are made for tennis or paddle tennis, following the specific characteristics of each modality.
ASSEMBLY NOT INCLUDED
Manufactured according to UNE-EN-1510 standard.
They do not include networks.
Approximate 10-day transportation service, if there are no setbacks from our provider.