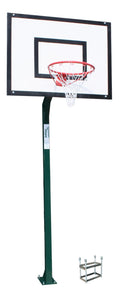 Set of baskets manufactured in regulatory measures, with steel structure, monotubular.
Anti-vibration board anchoring system.
Reinforcement at the bottom for ground anchoring.
30 x 17 cm anchor base. and 33 cm. deep (see photo), embedded in the ground by concrete footing.
Manufactured in accordance with the UNE-EN-1270 regulations.
DO NOT INCLUDE ASSEMBLY
They can be combined with different board qualities.
They include 20mm hoops. massive with 12 hooks and 6 mm net sets. nylon.
80 cm flight Boards 120 x 90 cm. Central tube 8 x 8 cm. / 2 mm thickness.
Support board 4 x 2 cm./ 2 mm. thickness.
Height of the hoop to the ground 2.60 meters.
Approximate 10-day transportation service, if there are no setbacks from our provider.