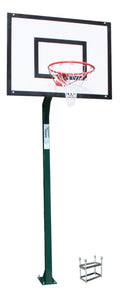 Set of baskets manufactured in regulatory measures, with steel structure, monotubular.
Anti-vibration board anchoring system.
Reinforcement at the bottom for ground anchoring.
30 x 17 cm anchor base. and 33 cm. deep (see photo), embedded in the ground by concrete footing.
Manufactured in accordance with the UNE-EN-1270 regulations.
DO NOT INCLUDE ASSEMBLY
They can be combined with different qualities of boards. They include 20 mm rings. Solid with 12 hooks and 6mm net sets. nylon
Flight 165 cm.
Boards 180 x 105 cm. Central tube 8 x 8 cm. / 4 mm. thickness.
Support board 4 x 2 cm./ 2 mm. thickness.
Height of the hoop to the ground 3.05 meters.
Approximate 10-day transportation service, if there are no setbacks from our provider.